The DMR-MARC Worldwide Network
Our network is an all-digital group of over 500 DMR-MARC repeaters in 57 countries with 39228 registered users. There are 2774 registered DMR repeaters world-wide in our database. we are all amateur radio operators many of whom are Motorola Solutions employees, Motorola Service Station employees, dealers, system installers and Motorola equipment aficionados.

Please consider a donation to support the registration system and talk group distribution servers by clicking on the Donate button to the right. Even small amounts help!

Repeaters on our network are connected all the time. TRBO radios have great voice quality, great coverage, and extended battery life all in LESS THAN 1/3 the channel bandwidth of a traditional analog FM repeater with TWICE as many voice channels! Our mission is to offer you a reliable and scalable choice in connectivity: local, regional, national and international. Isn't it time you upgraded to digital radio's cutting edge?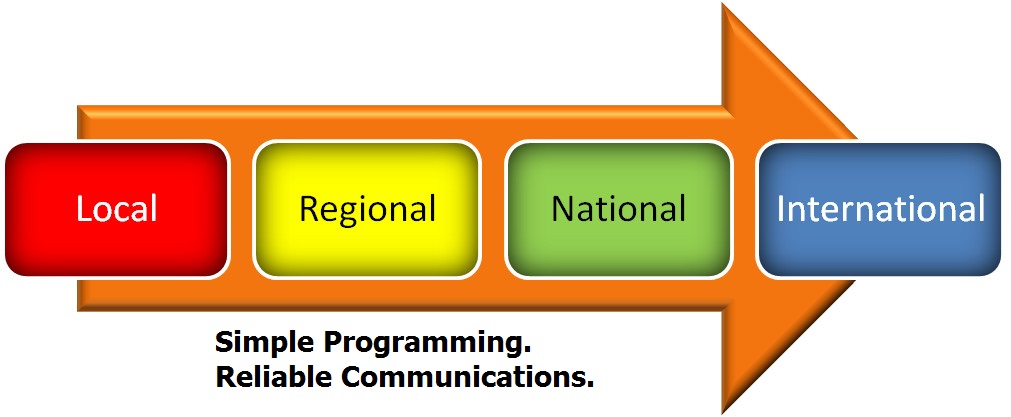 New Repeaters on the network
New Users on the network
Featured Stories
Help DMR-MARC maintain the Infrastructure that you enjoy, please donate today to help us keep the Servers and C-Bridges running as well as purchasing new infrastructure to help expand the network you love.




The Weekly Tech Net has moved back to North America TG3 at 02:00 UTC Thursday (Wednesday night in the Americas - 9pmET, 8CT, 6PT)


Please join us for the UK Net now Mondays @ 20:00 UTC on TG13, This was a very popular UK net before the guys in the UK gractiously have expanded the net to now cover the entire world. Now we can all participate!


The language talkgroups- TG10, 11, 13, 14, 15 have been launched in Europe. These worlwide language talkgroups are available to most repeater trustees. If you do not have access, send us an email. REMEMBER- TG1 should only be used as a CALLING CHANNEL for less than 2 mins. Then switch to another talkgroup. For now, the worldwide net will remain on TG1 also.


Please use TG13 Worldwide English outside North America if you have it on your system. Otherwise use TG3 North America until it becomes available.


TAC310 has been added to many of the DMR-MARC core repeaters as a trial. It can be accessed onDemand with PTT using TS1 TG310. This means it is not active until you PTT on that talkgroup. It has a 5 minute inactivity timeout. If we notice there are no issues we will keep the talkgroup as part of our network.


The DMR Sandbox project has launched. This is a way for developers to design features and interfaces to our network without disrupting it. Think of DMR-MARC as the stable version of the platform and the DMR Sandbox as the developmental version. However, if you want the local, statewide, regional, national, and international talkgroups you'll want to stay with DMR-MARC. The DMR Sandbox does not allow cross patches into stable networks. It is purely a developers playground.


Calibrate your Audio with the help of NorCal DMR. You must use Google Chrome for this utility. Just key up on TS1 TG9999 to use it. Right now, this is only available on a few bridges including the DMR-MARC core bridges. So, if your audio does not work, contact Tim, K6BIV and request a CC connnection from NorCal to your bridge. We are using a 2 min time out timer on DMR-MARC core bridges.
We are excited to announce a new Worldwide French Talkgroup 11. This talkgroup is available in France, the Montreal area, and areas near Geneva Switzerland.
DMR UK has launched its new website.
DMR-MARC is proud to announce the launch of our Worldwide Portuguese talkgroup (15)! These new talkgroups are in addition to the English (3), Spanish (14), Dutch (22), German (20), Italian (222), Finnish (244), and Swedish (240) talkgroups that we offer. DMR-MARC is committed to building relationships with native languages and making your user experience enjoyable as it can be. Contact Us if you would like to be connected to any of these talkgroups.
North American, European, Australia-New Zealand, and African versions of the CPS Contacts List Generator are now functional. Check under Member Toolbox.
DMR-MARC needs your help! We're looking for additional curators for our Facebook site to help keep it current with good quality content related to the growth of DMR within amateur radio, plus the latest DMR-MARC news. Good writing skills and experience with blogging would be a definite asset. If interested, please message us via Facebook with your application now! - DON, VA3XFT
Read all about DMR-MARC at the Ontario Science Centre. Thanks VA3XPR!
BEWARE! CPS 8.5 requires a 25 kHz entitlement key to program 25 kHz analog channels. The entitlement key is free with a paid CPS subscription but we see no need to update subscriber firmware newer than R01.09.10 using CPS 8.0
Network Update